Orianna
My owners dumped me at the Animal Friends Humane Society on Christmas Eve. The Humane Society immediately called Harlequin Haven so I could get medical care as quickly as possible. I have infected inflamed untreated open wounds on both my hind legs. I can barely walk my paws hurt so badly. Click here to see the pictures of my wounds. I have been living outside and have never been inside nor have I ever walked on a leash. This is all so new to me!!!
After arriving at the rescue I immediately had my wounds cleaned, medicated and bandaged. I have been started on antibiotics so hopefully in a few days I will start to feel better.
Update December 29: Just wanted to give you a quick update! The vet stopped by the rescue last night to check my wounds. He said they are looking great, but it will take weeks or possibly months to heal!! He also gave me some sort of shot to make them not hurt so bad and it is working great!! I felt really bad making him come here to see me but I have to learn to walk on a leash better before I can go visit him! I am trying and yes learning to walk on a leash but Grandma said baby steps and she does not want me stressing!!
I also want to thank that fat guy in the red suit that brought me all the presents. I had never heard of Christmas let alone Santa so he scared me when he came in, I thought he was trying to puppynap me!! The Danes told me that in a few months a Bunny rabbit will bring us special doggie treats on a day called Easter. I think they are pulling my leg!!
Check out my new picture below, Grandma took it when we were waiting for the vet to arrive.
Update February 2: Well I only have 1 small spot not healed yet but hopefully it will be healed in a few more days!! I am healed enough that I have my appointment to be spayed next Wednesday!! I can't wait!!!
Update February 13: Sorry I forgot to update my webpage!!! I am now ready for adoption!!! I still have tiny scabs that are still healing but I do not chew at them and they are healing nicely!! I have been spayed and I am ready for a forever home!! I would love a forever home with another dog cause I have never lived alone and I like the security of having another dog around!! I will need an obedience class too because I am still not great on the leash!! I do try but when I get nervous or excited well I kinda forget what I am doing!! I will see if grandma can get a new picture of me real soon.
Update March 3: I have added a new picture of myself below!!
Update May 21: Well things did not turn out quite like l expected. One day I suddenly became ill and just hurt all over. Grandma called the vet and had him come to see me because I hurt too bad to even get in the van to go see him. Well on first sight he said he thought I had Lupus so after several blood tests the results came back. I do indeed have Lupus. I am loved here at the rescue so I now will live out my life as a Sanctuary Dane.
Update June 15: I just thought you might enjoy seeing some pictures of me enjoying life and playing!
Please can you spare a few dollars to help the Rescue continue to help me and other Danes like me? It would be greatly appreciated. Without the Rescue who knows where we would have ended up!!
Thanks, Orianna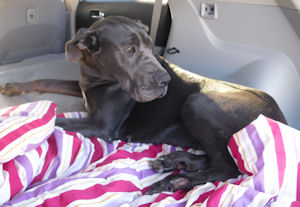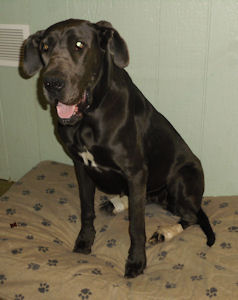 12/29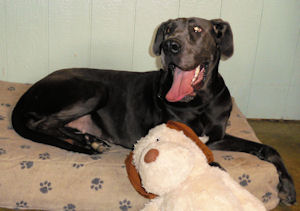 3/3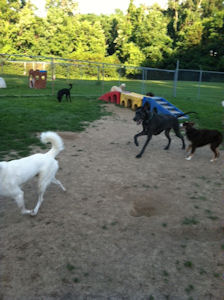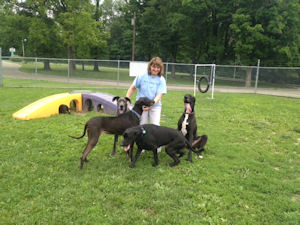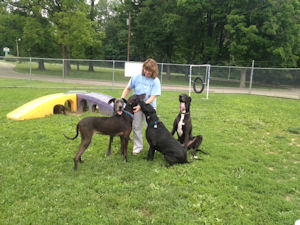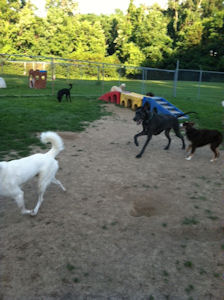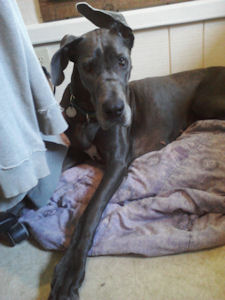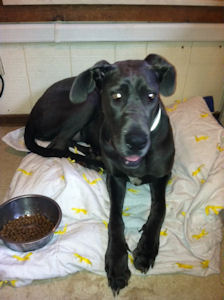 Date of Birth: 12/2009
Description: female, blue, natural ears
All images and text on this site Copyright © 1998-2013 Harlequin Haven Great Dane Rescue, Inc. unless otherwise credited. Use of any image or text without written permission is expressly forbidden. All rights reserved.