Dogs & Puppies as Gifts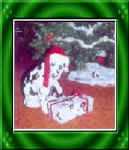 Dogs and puppies should never be given as gifts!!! A dog as a gift can easily be neglected amongst all the holiday excitement. Dogs and puppies need special care and attention when moved to a new home. Unfortunately, during the holiday season dogs can be quickly forgotten amongst new toys, games and parties.
Never get a dog on impulse! Often a surprise gift of a dog or puppy can turn out to be an unwanted gift. Despite good intentions, getting a dog for someone else is almost always a bad idea.
Most people prefer to choose their own dog or puppy. It is part of the dog/owner relationship that needs to be done personally. Remember, that people must be prepared to care for their new dog for the rest of its life, which could be up to 15-20 years.
Adding a dog or puppy to a family is like a marriage, you would not want someone to pick your bride or groom for you, so let them make this decision on their own.
INSTEAD, give them dog-related gifts such as a book on their favorite breed, or a gift certificate for toys and dog supplies from the local pet store, or a portrait to be done of the new dog. You can even help a dog while shopping by giving a sponsorship to one of our homeless dogs or by purchasing a Mozart painting or giving a gift certificate for a Mozart painting.
All images and text on this site Copyright © 1998-2023 Harlequin Haven Great Dane Rescue, Inc. unless otherwise credited. Use of any image or text without written permission is expressly forbidden. All rights reserved.