Mindy
Adopted
I was bred by a USDA licensed breeder (puppy mill) in Missouri, then sold to the Hunte Corporation, and then shipped to Petland in Chillicothe, Ohio. I was purchased by a young couple with young children who soon found out a Great Dane puppy and small children were not the right match. At least my owners cared more about me than the others--the breeder, the Hunte corporation, and Petland. My owners brought me to the Rescue so that I could be properly placed this time.
Petland claims to care about the puppies they sell but do they really? Their Web site says "Our mission is to match the right person with the right pet and meet the needs of both." Then why did they not educate my owners on what they were getting into, like the Rescue does their adopters?
Petland sells "tropical and marine fish, exotic birds, small animals, reptiles, registered and adopt-a-pet puppies and kittens." Excuse me Petland, I was NOT adopted I was "SOLD"! I was born to a breeder with the intent to sell to a broker and to again be sold to a pet store to be resold! This is NOT adoption!!
Then Petland says "Petland cares about the communities we serve. School and pet therapy programs bring joy to young and old alike as they play and interact with the pets. The Pets For a Lifetime Guarantee and spay/neuter programs help ensure no Petland pet is ever homeless or burdens an animal shelter." Hmmm, I think they need to read their guarantee again. I sure don't see a life time guarantee do you??
I really love the part that they ensure I will never be homeless or burden an animal shelter! I wonder what they call what is happening here in my life now? I also was not spayed!!! The best part of my guarantee is at the bottom, where it says that my owners had 48 hours to return me for a refund less a $300 cash administration fee.
Petland's Web page gives this comment which I also love "The administration fee is in place to discourage 'impulse' and 'rent-a-pet' purchases by customers who claim they have adequately prepared for a new pet but in truth have not. The fee also covers re-examination of the returned pet by the store's local consulting veterinarian."
Excuse me again Petland, if you really cared about us puppies, you would NOT sell puppies, and you would not purchase from brokers! Petland is a business--they are not in the practice of caring about homeless dogs--they only care about making money!!!
Please show Petland and their supporters that purchasing puppies from Puppy Mills is NOT how to help save lives. Please Boycott Petland and its corporate sponsors Nutro Pet Foods & Coastal Pet Products and let them know why!!!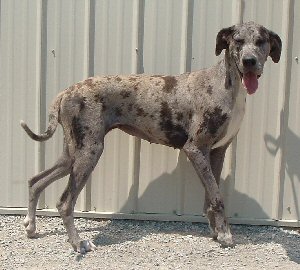 I have been adopted
My Registration Papers (not AKC)
My vet records furnished by Petland
Date of Birth: 8/18/2004
Breeder: Clausteele Gamble USDA # 43-A-3853
Description: female, merle, natural ears
HHGDR Suggests: Obedience Class, crate
Good With: Dogs, Adults, Children, Cats

All images and text on this site Copyright © 1998-2022 Harlequin Haven Great Dane Rescue, Inc. unless otherwise credited. Use of any image or text without written permission is expressly forbidden. All rights reserved.