Joey
Adopted
I am one of the Pickaway County Cruelty case Great Danes.
I still have weight to gain but I am a still growing and very happy so that may take some time.
I recently was rescanned for a micro-chip and one was found, because I was so young I don't remember this but according to the Hunte corporation this is my history. When I was 8 weeks old, I was purchased by Petland West Broad in Columbus, OH from the Hunte corporation in Missouri. Then sold to a hoarder, who now is on the run from the police!
Petland claims to have found homes for more then 55,000 homeless pets my question to Petland is. How many did they "SELL" to abusive & neglectful homes?? How many are NOW in rescues and animal shelters because they sold to anyone that had the money or a credit card?? What is Petland doing to support the rescues and shelters that are being inundated with homeless dogs because of their careless placement of animals? FACT: Petland is in the business of selling animals and NOT in the business of saving lives!! Please help us to stop them boycott Boycott Petland and its corporate sponsors Nutro Pet Foods & Coastal Pet Products and let them know why!!!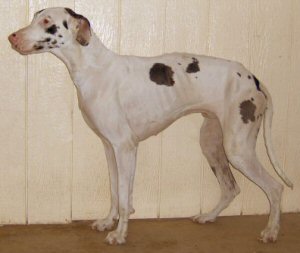 I have been adopted!!

Date of Birth: 11/9/2004
Description: male, harlequin, natural ears
HHGDR Suggests: Obedience Class, crate
Good With: Dogs, Adults, Children, Cats

All images and text on this site Copyright © 1998-2022 Harlequin Haven Great Dane Rescue, Inc. unless otherwise credited. Use of any image or text without written permission is expressly forbidden. All rights reserved.