Brutus
Adopted
I am one of the Pickaway County Cruelty case dogs I guess you noticed I am not a Great Dane but lucky for me the rescue took me anyway!! I am a very sweet boy and can't wait to find my forever home. In time I again will have a beautiful coat but right now I don't due to the flea infestation and the feces.
Just so you know I now weigh 6 pounds grandma says I need to gain at least 1 or 2 more pounds.
I recently was rescanned for a micro-chip and one was found. Since I don't remember back that far the Hunte corporation was kind enough to fill in the blanks.
When I was 8 weeks old, I was sold by the Hunte corporation to Petland West Broad in Columbus, OH. Then sold to a hoarder, who now is on the run from the police on animal cruelty and neglect charges!
Petland claims to help find homes for homeless puppies, my question to Petland is. Did you screen the new homes or do you even care what types of homes you placed them in? How many did they "SELL" to abusive & neglectful homes?? How many are NOW in rescues and animal shelters because they sold to anyone that had the money or a credit card?? What is Petland doing to support the rescues and shelters that are being inundated with homeless dogs because of their careless placement of animals? Petland only wants puppies what about the homeless adult dogs? Do we not matter? My question to the Hunte corporation is since you have all those millions of dollars why not help the dogs that you have sold that are now homeless!! I am sure the rescues and shelters could use the money after all they are cleaning up your mess!!
Thanks to the HHGDR I have found my forever home but I still felt I needed to voice my opinion! Please help my friends at the rescue and the other homeless dogs that were the product of the Hunte corporation and Petland. Please Boycott Petland and its corporate sponsors Nutro Pet Foods & Coastal Pet Products and let them know why!!!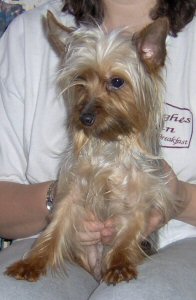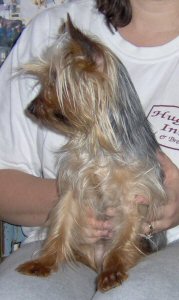 I have been adopted!
Breed: Silky Terrier
Date of Birth: 11/22/04
Description: Male, blue & tan
HHGDR Suggests: Obedience Class, crate
Good With: Dogs, Adults, Older Children, Cats
All images and text on this site Copyright © 1998-2023 Harlequin Haven Great Dane Rescue, Inc. unless otherwise credited. Use of any image or text without written permission is expressly forbidden. All rights reserved.