2005 in Review

In 2005, HHGDR found "forever" homes for 57 Great Danes, Saint Bernards, and other breed dogs. Since our 1992 founding we have found quality homes for 1162 dogs.

The number of homeless dogs was very high in 2005. Unfortunately adoptions were down. Our previous adopters stepped up and for the first time provided more forever homes to dogs than did new adopters.

We at HHGDR would like to thank ALL the donors and sponsors that have been so generous during the year. Without your generous donations we would not be able to continue to help homeless dogs. No matter how large or small, all donations are greatly appreciated by us as well as the dogs!

We would also like to thank all the volunteers who have worked so hard for the Rescue, whether it be selling raffle tickets, transporting a dog, doing an awareness day, or working at the Rescue facility.

Below we list a few events of the past year. Much more information can be found by looking through our 2005 Newsletters and Past Events.




JANUARY

Guinness II, a cruelty case, comes to the Rescue. Guinness II was found locked in a vehicle in low temperatures in a very emaciated and dehydrated state.




FEBRUARY

Procter & Gamble donates approximately 80,000 pounds of Iams dog food and biscuits.
MARCH
Grant awarded by the Johnson Charitable Gift Fund, sponsored by Donna and Wayne Fanta.
APRIL

Ben and Max are ready to be adopted--a long journey since their arrival in the fall of 2004. They both had serious injuries requiring orthopedic surgery.

JUNE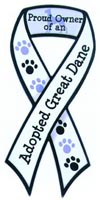 Awareness Ribbons make their appearance under How To Help.
Louise Peterson, Danesculptor.com, donates a percentage of her sales from the Great Dane Specialty Show in Shelby, Ohio. HHGDR volunteers staff her booth.
AUGUST
Christe McGarry donates a Chrysler Town and Country van.
SEPTEMBER

HHGDR Volunteers go to Louisiana to help search for and rescue pets.
First of 15 Katrina Dogs rescued from New Orleans arrive at the Rescue.
First Annual HHGDR Golf Scramble held.
HHGDR Annual Picnic. Volunteers, adopted dogs and families gather to celebrate.
OCTOBER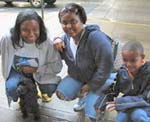 HHGDR delivers Katrina dog "Baby" to Vienna, Virginia, to be reunited with her mom Trish and family.
First Annual HHGDR Paws Parade held in Kettering.
NOVEMBER
Key Club donation from Sycamore High School, Cincinnati, in recognition of help to Katrina dogs.
Allegheny Technology Stock Donated by Mike and Marcia Burlingham. Stock donations help the Rescue continue to save dogs!


The Rescue dogs become artists, with some paintings auctioned off on eBay to help pay bills.

Louise Peterson donates Great Dane art for fundraising auctions on eBay.

DECEMBER

Justice, Dawn, and Dillon come to the Rescue, all victims of severe cruelty. Justice and Dillon have been starved and Dawn is a victim of violence.
Homan Foundation makes donation to help the dogs.
Pickaway County Cruelty Case. HHGDR assists in bringing the many animals out, and 10 Danes, 7 Bassets, a Silky Terrier, and a Cocker Spaniel mix come to the Rescue.
The Rescue dogs get ready for the holidays by writing to Santa.
YEAR 'ROUND
Matching donations from employers were received throughout the year. Check to see if your employer participates!
Fundraising Raffles, one for each season, continue to get bigger and better.
All images and text on this site Copyright © 1998-2023 Harlequin Haven Great Dane Rescue, Inc. unless otherwise credited. Use of any image or text without written permission is expressly forbidden. All rights reserved.